Miharu Mikuni
Talk

0
116pages on
this wiki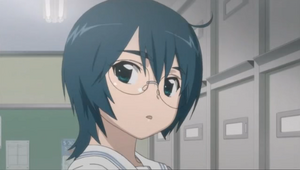 Miharu Mikuni (三国 美春, Mikuni Miharu) is a teenage girl that was introduced in chapter 18 where she returned Keita's acceptance letter when she found her dog trying to bury it in her yard. Out of a combination of stress from believing he was rejected and relief at finding out he was accepted, Keita hugs her out of the blue. After that action, she has shown an attraction towards Keita, often blushing when they talk and feeling very comfortable when he hugs her, but overall states she has nothing to do with him.
Though it is obvious she is attracted to him, even fantasizing about him raping her and experiencing an orgasm from him giving her a piggy back ride, she keeps her distance because of his sisters as well as her own inexperience around boys. Even though she does not go after him, his sisters still see her as a possible rival for Keita's heart.
Keita notes that she has a bigger bust than either of his sisters when he recalls the first hug they shared. She is currently in Gakushū Senior High and in the same class as Keita. People often mistake her being involved with Keita, and she will most of the time become caught in the cross fire of many of the twins' antics (which she comments on in chapter 25).
She is the only girl Keita gets nervous around, suggesting he might have feelings for her. She has a weak bladder and occasionally wets herself, usually in front of Keita, but he promises to keep those times a secret. The first time was when Yūzuki Kiryū locked them both in a closet together and she needed to pee. The second time was when Keita fell into the ocean, reached up and grabbed her ankles, accidentally scaring her. Keita sometimes startles her when he accidently clasps her breasts.
Though after being informed by Ako and Riko that Keita appears to be in a relationship with Yuzuki, she has been looking at him with a clear indication that she might be realizing her feelings for him.
In the anime, they first meet when he runs into her by accident in school.
Her voice actress is Yoriko Nagata