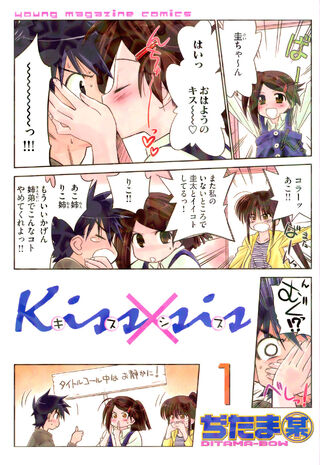 175 pages
ISBN-10 4063723445
ISBN-13 978-4063723441
published 6 September 2007

contains "chapters"
Summary
Keita Suminoe, a fifteen-year-old third-year middle school student, endures the persistent and questionably incestuous affection of his sixteen-year-old stepsisters, Ako and Riko. When end of the year entrance exams begin to approach, Keita makes an effort to regularly attend prep school, leaving the girls for the most part uninvolved; on one such morning, they reminisce about their lives with him four years prior. Back at present time, the girls treat Keita to karaoke for the holidays, a visit that goes awry when an order of drinks are unexpectedly alcoholic.
Notes
Ad blocker interference detected!
Wikia is a free-to-use site that makes money from advertising. We have a modified experience for viewers using ad blockers

Wikia is not accessible if you've made further modifications. Remove the custom ad blocker rule(s) and the page will load as expected.