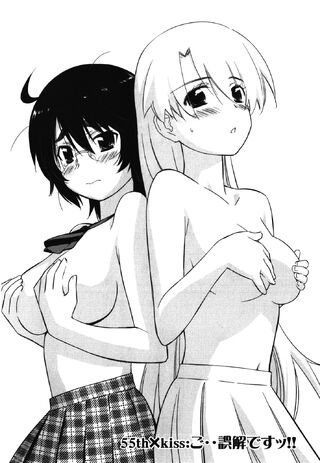 Title- It......It's a big Missunderstanding!!!!
Date- November 2011
Synopsis
After the vacation trip is over (referring to the last chapters), the first day of the second semester has begun.
Since the classmates of Keita envied him about the trip with his sisters during the vacation, Keita looked alot depressed and thought about the incident with the teacher named Kiryuu[1]. Suddenly Mikuni san appeared and greeted him by her own which surprised Keita as well.
Keita's friend Toda started to suspect him that Keita made love with Mikuni san in the vacation trip and imagined some perverted scenes which Keita denied at first until he admit that both of them went together on a trip.
The situation has escalated even more when the teacher arrived and asked the class about the trip and lied that she stayed at home all the time though she took part in the trip along with Keita and the others (Mikuni, Ako, Riko and the little sister of the teacher). She offered Toda - who wanted to confirm the fact, that the teacher spent the vacation with Keita and the others - to go home.
Mikuni, who wanted to clear things up because there has been a missunderstanding between Keita and her, was asked by the teacher to speak one on one after classes. The same went to Keita after the teacher has discussed things with Mikuni first.
In the end of this chapter, the teacher has arranged a meeting with Keita, but she has no idea how she will handle the upcoming situation.
Referbacks
references to previous chapters
Trivia
New Characters
Unanswered Questions
Memorial Moments
[1]Keita thought about the scene with his teacher when he thinks that she asked for a kiss instead of losing his virginity.
Quotes