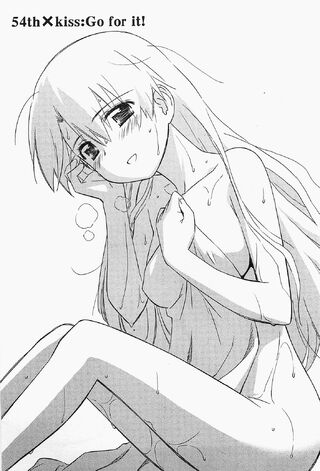 Title- Go for it!
Date- September 2011
Synopsis
A very tensional situation which the teacher asked Keita for becoming an "adult" though Keita thought that by looking at her that she appeared as an adult herself.
Keita thought in that moment what she really wanted from him and the first thought was the "invitation to have sex". But the teacher just wanted a kiss from him but she realized that Keita only do kisses on girls with closer ages to him instead of older women like herself.
Keita wanted to "do" the thing and talked that both of them are virgins and "there's nothing to be ashamed about". The teacher got embarassed and shouts at him that she just wanted a kiss and give a little sign of enviousness that "Not everyone is blessed with a love life as happy as yours...".
She went to the door to her room and shut it before Keita's eyes with her angered expression and cried afterwards while Keita is just confused.
Afterward she phoned with her sister and her sister cheered up that she came alot more forward to Keita than the other girls (Ako, Riko and Mikuni). The teacher went happily out of the shower and thought she fell in love with Keita.
In the end of the chapter (31.August in its time) there is actually the birthday of Keita, but he didnt celebrate it and studied instead.
Referbacks
references to previous chapters
Trivia
New Characters
Unanswered Questions
Memorial Moments
Quotes